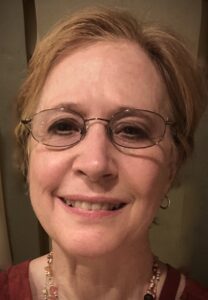 "The capacity to heal resides deeply within us," says Connie. "My goal is to encourage each person to take a creative healing journey–one that cultivates intuition, awakens self-discovery, and brings the mind, body, and spirit full circle."
PLEASE NOTE:    I AM TAKING NEW CLIENTS IN BODYWORK/ENERGY MEDICINE ONLY. (9-27-22)

Connie is a Licensed Massage Therapist and a musician.

A graduate of the Potomac Massage Training Institute, Connie is licensed as a massage therapist in the District of Columbia. Her training has enabled her to integrate mind-body therapies to help clients achieve holistic health. She also draws on her integrated approach to lead workshops in Self-Care, Stress Management, Wellness, and Singing. Connie has trained in Alchemical Alignment (and served as an Assistant trainer), the Wellness Institute and the Upledger Institute in Cranio-Sacral Therapy and trauma-informed bodywork, a form of Energy Medicine (over 10 years and 336 hours of in-class instruction as well as regular study groups). She is currently training in Pre- and Peri-Natal Birth Dynamics with members of the Castillino PreNatal and Birth Therapy Training Institute, and in "Formative Embodiment" with Jim Feil, a body-oriented therapy that uses observation of body language to tap into deeper body tension and trauma patterns.

Connie received her Bachelor of Science in Community Development from the Pennsylvania State University. She has been active in the Washington DC community–highlights include serving as a group facilitator for L'Arche DC, a community for intellectually disabled adults and their caregivers, and as a volunteer for Joseph's House, a hospice for low-income men and women with AIDS and other terminal illnesses.
Connie received her Master of Social Work from Catholic University's National Capital School of Social Service. She provided group and individual psychotherapy from 1995-April 2023. She retired from her psychotherapy practice in April 2023.
Connie has led and assisted in retreats at the Dayspring Retreat Center in Germantown MD, a 200-acre property with ponds, creeks and natural wildlife habitats, for the last 20 years.  She has been an active member of a Zen meditation community since 2008.  She co-founded Longview Retreats in 1999 and led workshops in singing, bodywork and integration of myth and meditation on its 200-acre property until it was sold in 2000.
For more information, contact [email protected] or call her at 202-966-8230. On Facebook visit  https://www.facebook.com/ConstanceRidgwayFullCircle/
Connie Ridgway Healer Washington, DC